Skip to Content
5 Perfect Window Styles for Every Room in Your Home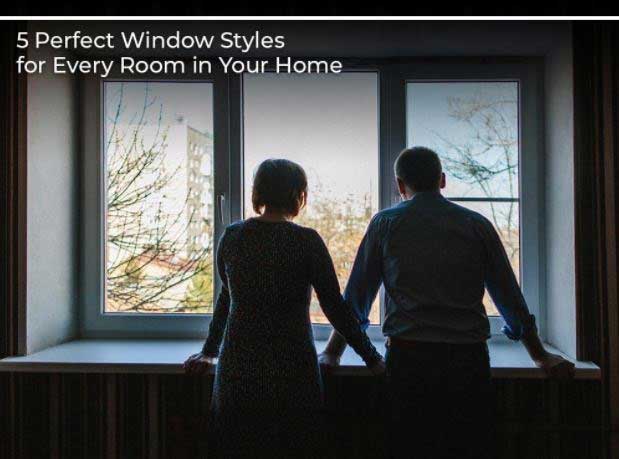 Could you imagine your home without any glimmer of light shining through your windows? You are most likely to picture a dark room with a gloomy atmosphere. On the contrary, homes with many windows tend to have a brighter and airier vibe. This is why you need to pick the right window style to create a home worthy of gracing the pages of a magazine.
The question: which window style will best suit your home? It's more difficult these days to pick the right one because of the variety of options. When you consider the architectural design of your home, however, it will be much easier to choose a window style.
1. Bay Windows
Modern bay windows can keep up with newer window styles. While bay windows have kept their alcove-shaped design, newer materials and manufacturing techniques now allow it to be incorporated in contemporary homes. The biggest advantage of this type of window is that it has an additional space that you can utilize any way you want.
2. Picture Windows
When privacy is not a concern, this window style is perfect for your home. Picture windows allow an abundant amount of sunlight into your living space, which can help boost your home's energy efficiency. They also let you enjoy the stunning outdoor view, which can set the mood of any room.
3. Casement Windows
Upgrade your casement windows when you're planning a window replacement. This modern window style has a wide glass area, but unlike picture windows, it is operable. It can maximize the benefits of cross ventilation while driving your utility costs down.
4. Double-Hung Windows
A home with a more traditional theme can benefit from double-hung windows. They can be opened by sliding the sashes vertically, which lets you relish the refreshing outdoor breeze.
5. Sliding Windows
When you choose a sliding window, you're sure to get the best of both worlds. Its unobstructed glass surface allows you to admire outside views. Plus, it gives you the full benefit of an operable window unit.
At Carolina Gutter Helmet and More, we install high-quality replacement windows and retractable awnings to help improve your home's curb appeal, energy efficiency, and functionality. Call us today at 864-303-5955 and 972.427.4418 to learn more about our products and services. We serve residents of Greenville, Columbia and other nearby locations in SC.