Skip to Content
Save Time and Money: Invest in Micro Mesh
Your house's gutters play a vital role in protecting your foundation and directing rainwater away from the sides of your home. And given how expensive foundation repairs can get, there's no reason not to invest in smart solutions for your gutters. Fortunately, Carolina Gutter Helmet has a solution: micro mesh gutter guards. Our Greenville, SC company specializes in installing these revolutionary products in homes and businesses across the area. These gutter guards have a stainless-steel micro-mesh screen that keeps leaves and debris out while allowing rainwater to make its way through the gutter system. They are a highly effective solution to the damage sometimes caused by excessive rainfall.
The Benefits Of Gutter Microscreens
There are more than a few benefits to installing mesh gutter guards on your roof. At Carolina Gutter Helmet, we are familiar with all of them. We're more than happy to speak with you to discuss our product, how it can help you, and what to expect from it. But we also know you're busy, so we have listed some of the benefits of micro-mesh gutter guards that professionals like us know all too well. They include: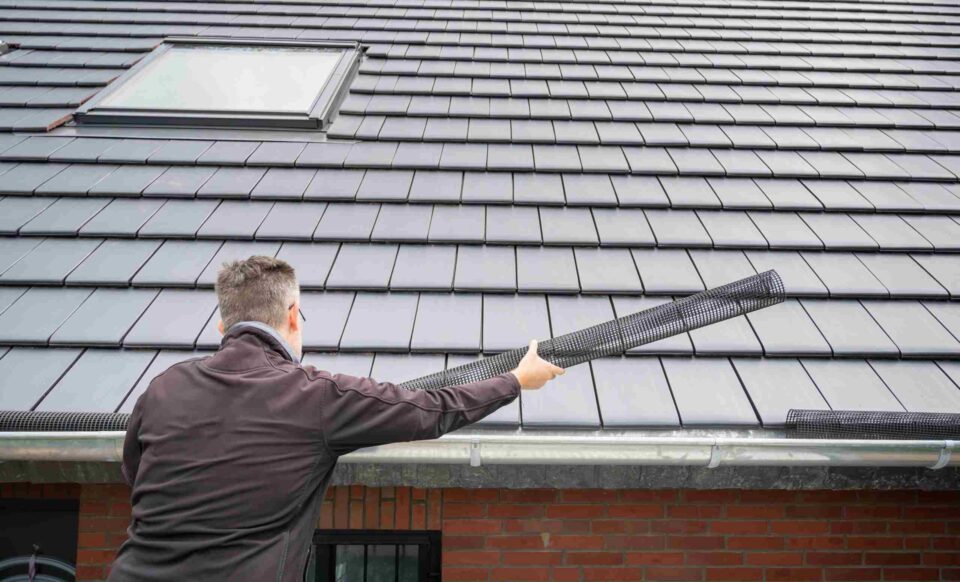 Saved Time And Money: If you do not have micro-mesh gutter guards, then debris and leaves will eventually accumulate in your gutter. Then, you will have to clean them or hire a professional to do so. These obstructions prevent water from traveling through the gutter system. If you own micro-mesh gutter guards, accumulations of leaves and debris will not hinder water flow.
Avoided Mice and Insect Infestations: Many species of mammals, insects, birds, and arachnids love a moist and wet area. Mice, spiders, mosquitos, and even bats will set up shop in an unguarded gutter. However, because micro-mesh gutter guards have an apparatus preventing access to the interior of the gutter, these pests won't infest the area.
Fewer Ice Dams and No Gutter Freezing: While freezing temperatures aren't as common in South Carolina as it is in many places, it still happens. And if you allow debris and leaves to accumulate in your gutters, they will block water from leaving. As a result, ice can form and create ice dams, which can cause harm to the gutter system as a whole.
They Prevent Rust and Corrosion: Wet leaves can do more than block the free flow of rainwater throughout your gutters. They can also rust and corrode the metals. Gutter guards are designed to prevent pine cones, leaves, and all other debris from entering the cutters. The mesh surface of the gutter guard allows the water to run through while keeping everything else out.
Reduced Likelihood of Fire: Leaves and twigs that gather in your gutters and downspouts are a fire hazard. It doesn't take much to ignite them – an errant flame from a grill or nearby bonfire will get the job done. Gutter guards make it easier to clean gutters and reduces the risk of fire.
Extended Gutter Lifespan: Cheap, plastic gutters don't last as long as our micro-mesh gutter guards. As debris, leaves, dirt, and twigs collect in an unprotected gutter, pooling water forms. Over time, the clogs will rust and corrode your gutter. It can also bend the materials themselves and require a premature replacement.
How Do Aluminum Micro-Mesh Gutter Guards Work?
How do micro-mesh gutter guards work? We're glad to tell you. One of the best things about mesh gutter guards is their simplicity. While they are certainly innovative, they accomplish their goals without any fancy technology or complicated machinery. Our guards always include the following components, which work hand-in-hand to deliver all of the above benefits of owning micro-mesh gutter guards:
The Frame: We can promise a micro-mesh gutter guard screen comprised of ultra-strong and -durable aluminum, providing added strength. Most gutters have cheap plastic frames, which do not last nearly as long.
Internal Supports and Brackets: The internal supports and brackets are among the most crucial components of our micro-mesh gutter guards because they keep the entire system rock-solid and secure.
The Micro-Mesh Screen: The stainless-steel micro-mesh screen is extremely effective at protection – much more so than flimsy alternatives. Our product is a self-locking screen available in various sizes.
We Specialize In Roofs, Gutters, and Awnings
At Carolina Gutter Helmet, we provide superior customer service and home improvement products to our clients. We specialize in roofing, awnings, and gutters, leading the way throughout our service area – including Asheville, Greenville, and Columbia, SC. Our employers are trained, pay close attention to detail, and are fully insured for your peace of mind. Don't wait one more minute for micro-mesh gutter guards – contact us today!