Skip to Content
Reliable Roof Repair Services in Greenville, SC
Experienced & Professional Roof Repair Contractors
Whether your roof has been damaged in a storm or you are just looking to shape up your home's exterior, residential roof repair services are what you need. Rooves protect us from the elements, like wind, rain, sun, hurricanes, and much more. So naturally, they'll get worn down or sometimes even destroyed in an instant, in which case it's crucial to boost their durability back to like-new or better to protect your family, property, and neighbors.
For the best residential and commercial roof repair services near Greenville, SC, you can count on Carolina Gutter Helmet. We're industry experts who have been in the business for over 40 years providing the Carolinas with the highest quality gutter covers, roofing, and retractable awnings available. Decades of hard work and kept promises have built our reputation as the best gutter protection business around.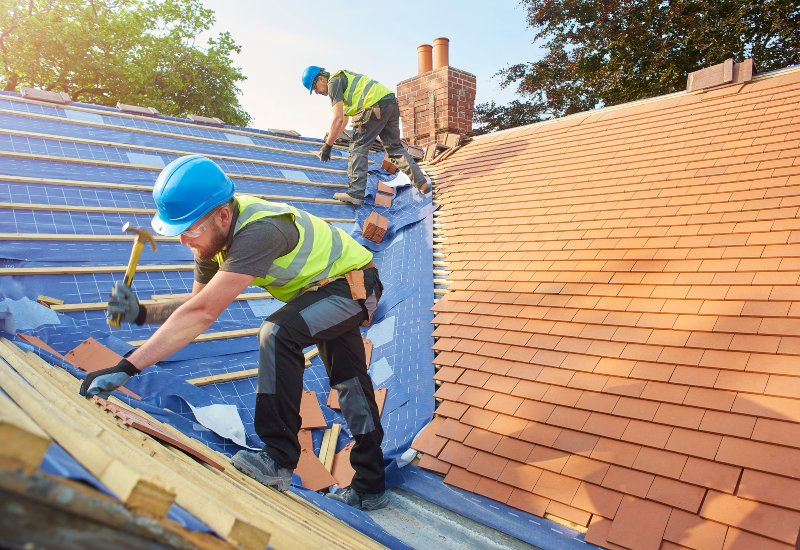 Rely on Our Roof Repair Services With 100% Satisfaction
At Carolina Gutter Helmet, we conveniently offer both residential roof repair services as well as commercial roof repair services to help our neighbors in the South Carolina community stay safe with solid roofing. Boasting full roofing repair and replacement services, our skilled team can assist you with everything from roof leakage repair services to help troubleshoot issues with your ventilation or chimney, and much more. The best part is that our work includes manufacturer warranties and workmanship guarantees, so you can rest assured your investment will be worthwhile.
Why Choose Carolina Gutter Helmet
Choose Carolina Gutter Helmet as your preferred roof repair company, and you'll be guaranteed a seamless process with a successful finish. We boast highly experienced contractors who are both trained and insured, promising you a safe and streamlined roof repair job that won't interfere with your daily life or business operations. Plus, we conduct a thorough clean-up afterwards, so once we're finished it will be like you never had a roof problem in the first place!
Along with our outstanding client-centric service, we feature top-of-the-line equipment and products. By using the best roofing materials around, we'll ensure an excellent end result that's built to last for the long run. Plus, we feature a wide selection of roofing materials to match every taste, from traditional to modern, to ensure your roof is as stylish as it is stable.
A Top-Rated Roofing Company in Greenville, SC
Here at Carolina Gutter Helmet, we have satisfied countless clients over the years. As a family-owned business with humble beginnings back in 1981, we've now grown into an industry giant, serving both South and North Carolina – including Greenville, SC, Asheville, NC, and Columbia, SC – with the best roof repair services. Our various home improvement and remodeling services have won us numerous accolades and an A+ rating by the Better Business Bureau.
Roof Repair | Free Estimates
Unsure if you need your roof repaired? Take a look at your roof and gutters, and consider the following factors to help determine if it's time, and don't hesitate to call us for advice or a free estimate:
Clogged downspouts
Backed-up gutters
Rotting wood
Damaged shingles
Decaying pipes
Request a Free Roofing Estimate
Since 1981, Carolina Gutter Helmet has served the Greenville, SC, area with quality roof repairs and other stellar services that will leave your home looking its best and functioning at its safest. We also conveniently serve the Asheville, SC, and Columbia, SC, communities with our comprehensive assistance on all things roofing, gutter, and awning related. Interested in learning more about how we can serve you? Call us today for a free estimate!
Never Clean Your Gutters Again®