Skip to Content
Certified Gutter Helmet® Installation in Greenville, SC & Beyond
Contact Carolina Gutter Helmet & Roofing for a Free Estimate
Carolina Gutter Helmet and Roofing is an authorized dealer offering Gutter Helmet® installation in Greenville, SC and surrounding areas in the Carolinas. Each gutter system is custom-manufactured to fit your roof's precise dimensions using the industry's highest quality poly-butyl sealants and aluminum fasteners. Gutter guard installation helps you protect your home's foundation, landscaping, siding, and roofing from damage caused by the elements. We're proud to be your local certified Gutter Helmet® installer with over 20 years of experience. Reach out today to request a free quote!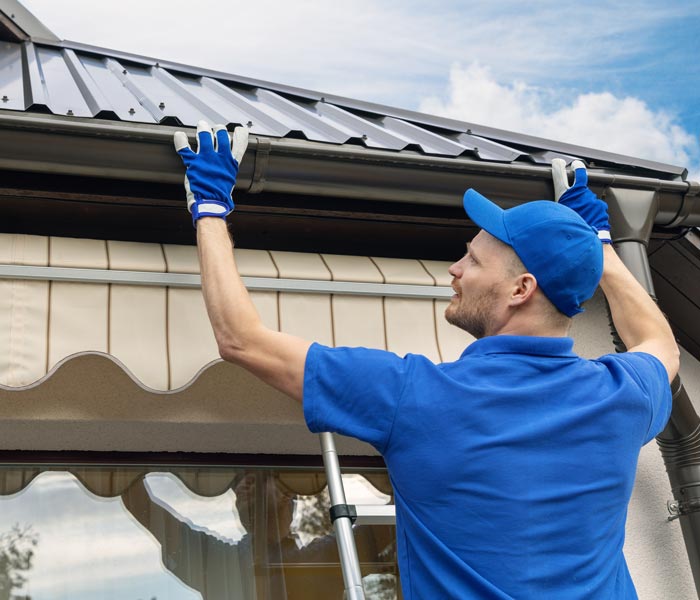 Explore the Benefits Offered by the Gutter Helmet® System
Installing a gutter system is in your best interest because it helps prevent gutter clogs and overflows, which often result in foundation issues, broken gutters, ceiling and wall damage, mold growth, insect infestations, and a host of other problems. Thanks to their patented design, Gutter Helmet® gutter covers offer superior gutter protection compared to other products on the market. Their unique textured surface allows rainwater to cling to them, while the rounded edge guides the water flow downward to your gutters. Leaves, twigs, and other debris fall harmlessly to the ground. The Gutter Helmet® system comes with a Triple Lifetime Transferrable Warranty to ensure its materials will never chip, crack, peel, or fade. Thanks to this unbeatable warranty, installing a Gutter Helmet® system will help you increase your home's resale value while allowing you to say farewell to gutter cleaning forever.
How Our Certified Gutter Guard Installation Process Works
Installing gutter guards is more complex than you might think, meaning it's best left up to professionals. Attempting to install them yourself could result in holes or sags, which prevent your gutter system from doing its job. Many homeowners also end up buying the wrong size or the wrong type for the best gutter protection. Eliminate the guesswork when you rely on Carolina Gutter Helmet and Roofing for your gutter guard installation in the Greenville, SC area. Our process is fairly straightforward:
Prepping the Gutters – First, we clean, seal, check, and align your gutters. Installing your new gutter guards on a dirty, clogged system will render it ineffective. It's essential to prep your gutters by cleaning and realigning them toward your downspouts for the best results. Browse our frequently asked questions about installing Gutter Helmet® gutter covers to learn more about prepping yourself and your home for this cutting-edge gutter protection system.
Certified Installation – Our certified professionals will install your gutter guards in one day. Not only does Carolina Gutter Helmet and Roofing meet Gutter Helmet's licensing and insurance requirements to provide certified installations, but we also follow all recommended COVID-19 safety measures. We will practice the proper social distancing (six feet or more), wear protective face coverings, and leave your property debris-free after installation.
Satisfaction Guaranteed – Your satisfaction with your new gutter guard system is guaranteed when you choose Gutter Helmet®. Not only does it come with the Triple Lifetime Transferrable Warranty, but Gutter Helmet® will NOT void your roof warranty. Most roofing manufacturers have approved our gutter guard installation procedures for your peace of mind. Gutter Helmet® gutter covers come in a multitude of colors to complement your home's exterior, including bronze, brown, charcoal, dove gray, green, sand, timber, black, and musket brown.
Questions to Ask When Choosing a Reliable Gutter Installer
Selecting a reliable gutter installer goes beyond merely picking one out of a phonebook, as anyone with a gutter fabrication machine and a truck can consider themselves a gutter installer. This decision requires a bit of effort to ensure you select the best one at the best price for your budget. You should be prepared to ask for references and credentials, taking the time to research the company's history and certifications. Check online reviews, view portfolios, and ask for a free estimate to get a better idea of their workmanship quality. Asking if they're familiar with roofing work can also help you eliminate less qualified candidates. Check out the four questions you should ask professional gutter installers.
Most reputable businesses also usually belong to their local Chamber of Commerce or work hard to earn excellent ratings with the Better Business Bureau. Carolina Gutter Helmet and Roofing maintains an A+ rating with the BBB, has earned a Super Service Award from Angie's List, and is an active member of the Asheville Chamber of Commerce. View our gallery or testimonials to see why we come so highly recommended in Western North Carolina, Upstate South Carolina, and Midlands South Carolina!
Reach Out to Our Experienced Team for a Free Quote Today
Are you ready to learn more about the benefits of installing Gutter Helmet® gutter covers on your Greenville, SC home? Contact Carolina Gutter Helmet and Roofing to request a free installation estimate from our friendly, experienced team today. We're proud to offer the best gutter guards backed by one of the industry's best warranties. We serve homeowners throughout North and South Carolina, including Asheville, Columbia, Greer, Spartanburg, Hendersonville, Barnardsville, Marshall, and more. In addition to gutter guards, we also install retractable awnings and screens as well as provide roofing repairs and replacements. Our company is an Owens Corning® Preferred Contractor, but we're experienced with all types of roofing, including fiberglass and wood shingles, slate, metal, and asphalt.
Never Clean Your Gutters Again®