Skip to Content
Gutter Protection Systems
Get a Gutter Protection System for Your Home
Carolina Gutter Helmet & Roofing is Greenville, SC's reliable source for exterior home improvement from the roof to the patio. We provide residential customers with effective and long-lasting solutions to shade, water drainage, and protection from the elements. Our roofing services use only high-quality materials and the best techniques for repairs and installations of metal, slate, wood shingle, and fiberglass shingle roofs. The awnings and screens we offer for sales and installation keep glaring sunlight and harmful ultraviolet (UV) rays out of your eyes and off your furnishings. Your home's gutter system also plays a vital role in preserving the condition of your home and property. To keep water flow unobstructed and extend the life of your gutters, we offer gutter protection systems.  These durable and effective gutter guards keep leaves and debris out of your gutters while also preventing birds and other pests from building nests in them. After thoroughly cleaning out your gutters, we install this system to protect your home investment and allow water to drain from your rooftop without clumps of rotting leaves, twigs, and other debris blocking its path.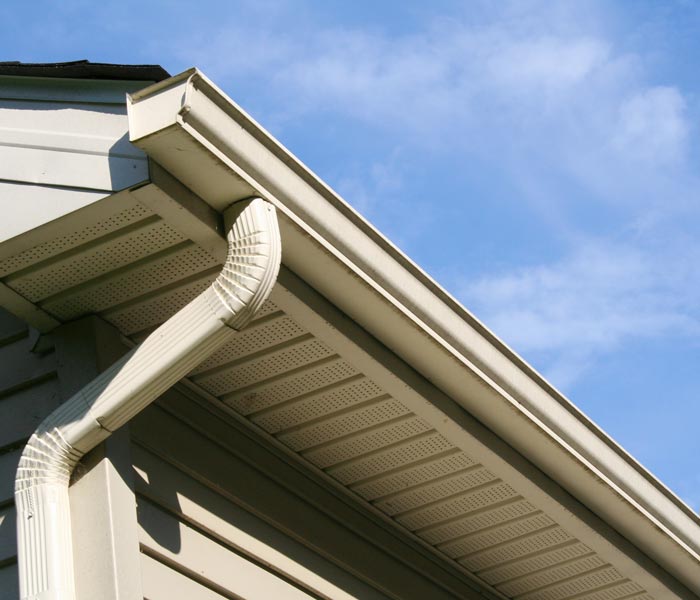 Keep Your Gutters Free of Leaves & Debris
The gutter protection system we sell and install ensures you never have to clean your gutters again. Using innovative gutter guards that block debris from entering your gutter system, we keep your gutters clear for water to flow away from your home. There are many risks involved in cleaning your own gutters, including cuts, scrapes, falling from a ladder, and potentially damaging your system. You can avoid all the risks of gutter cleaning with one simple installation on your already existing gutter system. After removing all the leaves and other debris that have collected, we expertly fit these gutter guards to eliminate the chance of clogs that that slow water drainage and back up your gutters. These gutter protection systems are designed to work with standard gutter systems you'll find in South Carolina's residential neighborhoods. Here are some examples of the advantages a gutter protection system offers:
It can handle virtually any downpour.
The system is aesthetically pleasing and blends with your current roofline and gutters.
It effectively keeps leaves and other debris out of your gutters.
Gutter guards prevent overflowing gutters that can cause water damage to your foundation and landscaping.
It eliminates the risk of physical injuries from cleaning your gutters.
The gutter protection system comes with a lifetime warranty.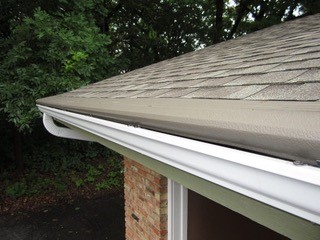 Benefits of a Gutter Guard
Gutter guards help you keep your home in top condition and your family safe from harm, and Carolina Gutter Helmet & Roofing is proud to contribute to this home improvement solution. With gutter protection, you can enjoy many benefits from the design and dependability of our system, including the following:
You get to keep your current gutters. We can add our gutter guards over your existing gutter system after cleaning out any debris that's currently collected in it. If a new gutter system is necessary, we can remove your old gutters and install the new system, so it's ready for your new gutter protection system. Our team will assess your gutters and recommend the best option.
It blocks the maximum amount of debris without hindering water flow. Our gutter protection system uses a nose-forward design, which means the topper's rounded edge extends past your gutter's edge. This design lets water flow freely into your gutters while blocking the maximum amount of leaves, sticks, and other debris.
You never have to deal with clogs again. Clogged gutters prevent water from draining from your roof and away from your home, and they can cause your fascia boards to rot and damage your foundation and landscape. Our gutter guards ensure rainwater always drains properly to protect your home and property from water damage.
Your family is safer with gutter guards. Cleaning your gutters is a dangerous job, and falling from a ladder can lead to serious injuries. Adults working around the yard or house account for 29% of all fall injuries, and falls are the leading cause of medically treated, non-fatal injuries in the United States. With gutter protection, you never have to worry about cleaning your gutters again and avoid the risk of injury.
Contact Us for Sales & Installation in Greenville, SC
Carolina Gutter Helmet & Roofing wants you to enjoy all the benefits of a gutter protection system, which is why we offer the best system and install it right the first time. With a gutter guard in place, water will flow freely from your rooftop and away from your property without slow drainage or backups that can cause damaging overflows. Your foundation, landscape, and home exterior are safe as your clear gutters direct the water away from your home. There's also the relief that you never have to get on a ladder again to scrape rotting leaves and debris from inside your gutter system. No more messy weekends of scooping gunk and flushing your gutters, as well as risking your safety and your gutters' condition. Put away your ladder for good with our high-quality gutter protection solution. We'll keep your gutters clear and guard your home against water damage from clogs and poor drainage. If you have any questions or you'd like to get started on purchasing a gutter protection system for your home, give us a call today to speak with a team member to get a free estimate. You can also fill out our online quote request form and submit it for a complimentary quote.
Never Clean Your Gutters Again®