Skip to Content
Enhance Your Outdoor Spaces with Retractable Awnings
Homeowners in Greenville, SC enjoy spending quality time outdoors. You may entertain your friends and neighbors at weekend barbecues, or your family might come over to dine al fresco on a sunny evening. Even morning coffee and chats with your best friends can be more enjoyable on your back deck. However, the glaring sun and brutal heat from its rays can leave you and your guests sweating and suffering. An excellent way to dress up your outdoor living spaces is to consider investing in high-quality and easy-to-use retractable awnings. Carolina Gutter Helmet & Roofing offers various options in retractable awnings, and we'll help you choose the right system to suit your style, budget, and outdoor spaces over patios, porches, and decks. We're proud of our history in the area as a provider and installer of top-notch awning options from Eclipse Shading Systems®, which is one of the top brands of advanced solutions for solar protection. Our company wants you to enjoy the outdoors with the best retractable awnings, and we make sure they get installed perfectly so that they're ready to use as soon as we finish.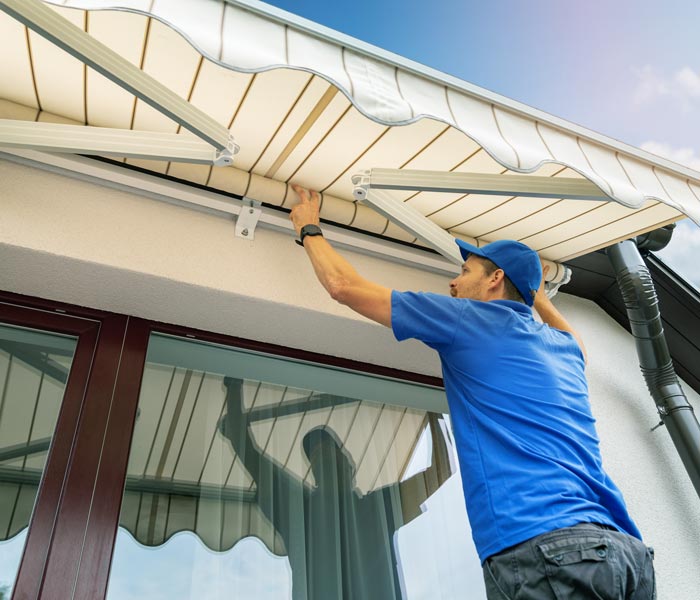 Retractable Awning Options for Your Home
Carolina Gutter Helmet & Roofing wants to make sure we always have an extensive collection of retractable awning options for you to choose from, including various styles and measurements. The solar protection solutions from Eclipse Shading Systems® come in a wide range of fabric colors, hardware shades, and unit sizes to ensure every customer finds a perfect fit for their home. The solution-dyed fabric and sturdy frame are durable enough to stand up to many seasons of regular use and exposure to the elements without losing their beautiful appearance. Whether you have a small deck that needs shade or your outdoor space is big enough for the whole family to spread out, our size options cater to spaces of various dimensions. Another important option to consider is whether you need an automated awning or one you operate yourself. We have manual versions of retractable awnings that are easy to use, and our automated options make expanding and retracting your awning as simple as pushing a button. Whichever option you choose, you still have a broad range of colors, patterns, and sizes to consider. Our professional team will take measurements of your outdoor space to make sure your investment fits perfectly.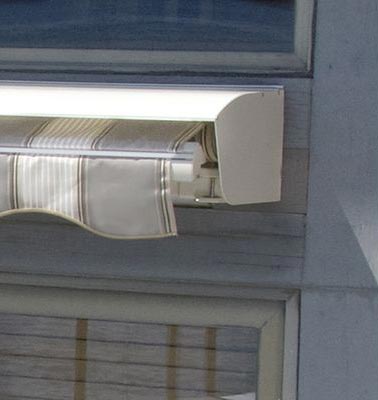 What Type of Retractable Awning is Right for Your Home?
Choosing the best retractable awnings for your home involves many factors that include your budget, the size of your outdoor space, and what color and style fit your home. While the dimensions and functionality may be contingent on your patio and your physical limitations, the decision on an ideal color or pattern for the fabric can be subjective. You want to make sure it complements the exterior aesthetic of your home, but you also have to like it. A new retractable awning from Eclipse Shading Systems® is durable and will last a long time, so you should enjoy its appearance as you relax under the awning. Choosing a motorized version can add even more convenience to your at-home leisure time since pressing a button is all the work you need to do for reliable shade. Carolina Gutter Helmet & Roofing's retractable awning specialists will work with you to figure out all the features and details of your investment to ensure it meets your expectations. After you choose an option that fits your space, style, and operational needs, we'll install it right the first time for outstanding performance.
Reach Out to Us Today
Your comfort at home includes relaxing in your outdoor living space, and Carolina Gutter Helmet & Roofing enjoys contributing to its improvement. You may have to deal with sweltering heat and harsh sunlight, interrupting your leisure time whenever you're outside. But with retractable awnings, you get cool shade and protection from ultraviolet (UV) rays to save your skin and furnishings. Let us help you create an ideal outdoor space on your porch or patio where you can enjoy hours of lounging and enjoying the sights and sounds of nature and your neighborhood. Our selection of retractable awnings from Eclipse Shading Systems® gives you a variety of choices in sizes, colors, and patterns to match your shade needs and your home's aesthetic. We'll help you choose the awning that fits your style and budget and then expertly install it, so it's ready to use immediately. Not only are these retractable awnings durable, but they're also easy to use, smoothly expanding over your outdoor space for a party or get-together, and then retracting when you're done. Contact us today to get started on your order for a simple and stylish shade solution, or you can fill out our contact form to get a free quote.
Never Clean Your Gutters Again®