Skip to Content
Retractable Screen Installation in Greenville, SC
We Install Retractable Porch and Patio Screens
Imagine creating a versatile and comfortable outdoor space that allows you to enjoy the fresh air while keeping bugs and debris out. At Carolina Gutter Helmet, we specialize in premium retractable screen installation services in Greenville, SC that will transform your patio, deck, or porch into a retreat you'll love. Our experienced team will guide you through the process, ensuring a seamless installation tailored to your needs and space. Contact us today for a free quote and discover how our retractable window screens can elevate outdoor enjoyment.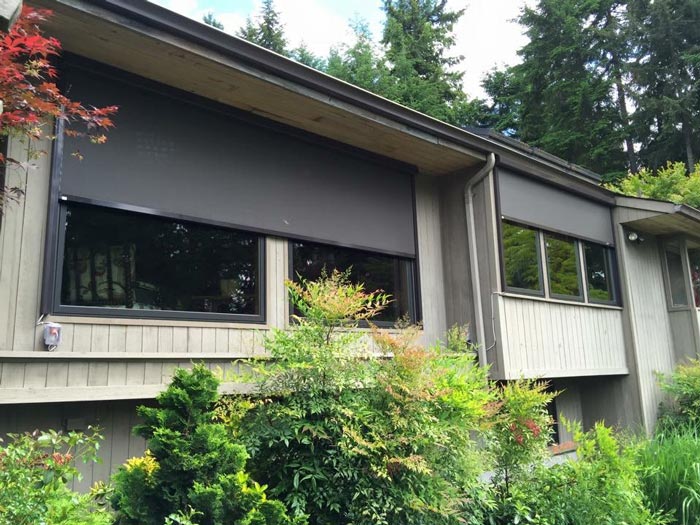 What Is a Retractable Motorized Screen?
A retractable motorized screen is a versatile and convenient solution for enhancing your living space by providing a barrier against insects, sun glare, and excessive heat while maintaining ventilation. These screens are motorized, allowing you to easily retract or extend them with the push of a button. When not in use, the screen neatly retracts into a discreet housing, preserving the aesthetics of your windows, doors, or outdoor areas.
Benefits of Retractable Motorized Screens
Retractable motorized screens offer a range of benefits that enhance your living space's comfort and functionality. The key advantages of using retractable motorized screens include:
Insect Protection
One of the primary benefits of motorized screens is their ability to keep insects and pests out while allowing fresh air to flow in. This creates a comfortable and bug-free environment, allowing you to enjoy the outdoors without the nuisance of insects.
Sunlight and Glare Control
Motorized screens can effectively block harsh sunlight and reduce glare, making indoor and outdoor spaces more comfortable. By diffusing sunlight, these screens help create a pleasant and relaxing atmosphere.
Privacy and Shading
Retractable motorized screens provide privacy by blocking the view from outside. They can also offer shade, protecting you from the sun's direct heat and allowing you to enjoy your space without discomfort.
Energy Efficiency
By blocking out excessive heat from the sun, motorized screens can help reduce the need for air conditioning and lower energy consumption. They act as a barrier against heat gain, keeping your space cooler and more energy-efficient.
UV Protection
Motorized screens often come with UV-blocking properties, protecting your furniture, flooring, and other indoor elements from fading or damage caused by harmful ultraviolet rays.
Custom Retractable Screens for Your Home or Business
With a wide range of sizes, colors, and screen options, you can tailor the retractable screens for your porch or patio to perfectly match your aesthetic preferences and functional requirements. Whether you want to create a bug-free outdoor oasis, improve ventilation, or control sunlight and glare, our expert team will work closely with you to design and install retractable screens that meet your specific needs.
High-Quality Screens from Eclipse Shading Systems®
Carolina Gutter Helmet and Roofing takes pride in providing homeowners with top-quality Eclipse Shading Systems. These cutting-edge solar protection solutions are designed to enhance the comfort and beauty of your outdoor living spaces. Eclipse retractable screens offer a range of impressive features, including expansive widths of up to 23 feet and heights of up to 18 feet, allowing for maximum coverage. With beautiful frame finishes available in various shades such as white, desert sand, camel, or brown, you can select the perfect complement to your home's aesthetic. The screens can be operated through motorized or manual control, providing flexibility and convenience. Additionally, Eclipse offers warranties for both the fabric and framework, ensuring your investment is protected.
The Durable Choice: Eclipse Solar Cassette Screens
We highly recommend the Eclipse E-Zip solar shade for those seeking convenience, offering effortless screen storage with a simple button press during favorable weather conditions. When it comes to long-lasting durability, the Eclipse Solar Cassette Screens are the ideal choice, available in robust models designed to withstand even the harshest weather conditions. Rest assured that all Eclipse screens are backed by comprehensive warranties, providing you with peace of mind and assurance in the quality of your investment.
Contact Carolina Gutter Helmet Today
Carolina Gutter Helmet provides premium retractable screen installations that blend functionality and aesthetics seamlessly. With our expertise and commitment to customer satisfaction, we can help you create a versatile and comfortable outdoor haven that suits your needs. Whether it's a patio, deck, or porch, our team will guide you through the process, ensuring a customized solution that enhances your outdoor lifestyle. Contact us today for a free consultation and take the first step towards creating an outdoor retreat you'll love in Greenville, SC.
Never Clean Your Gutters Again®