Skip to Content
Choose Asphalt Roofing Shingles for Your Greenville, SC Home
Carolina Gutter Helmet Uses the Best Asphalt Roof Shingles
Since 1998, Carolina Gutter Helmet has chosen asphalt shingles for roof repair and replacement in Greenville, Asheville, and Columbia, SC. With access to the top name brands, including Owens Corning, you can count on our professional roofing contractors to keep your home safe. Asphalt shingles are a versatile residential roofing option that can be installed on any type of home regardless of size or complexity. With a durable and trusted design and a wide selection of colors and styles, asphalt shingles are the most popular roofing option on the market today. Discover for yourself why we trust asphalt shingles and why more homeowners choose them to protect their homes and families. Then, contact us today to schedule your roof repair or installation.
Asphalt Shingle Roof Repair, Installation, and More
As the community's leader in residential roofing services, you can always count on our team of knowledgeable and trained contractors for all your roofing needs. Your roof is essential for protecting your home and family, which is why we always arrive on time to begin your roofing project. Our commitment to customer satisfaction has allowed our company to grow. Whether you need a roof repair, replacement, installation, or maintenance, you can count on our team to provide expert service at an affordable price. Choose the roofing service that's right for your home: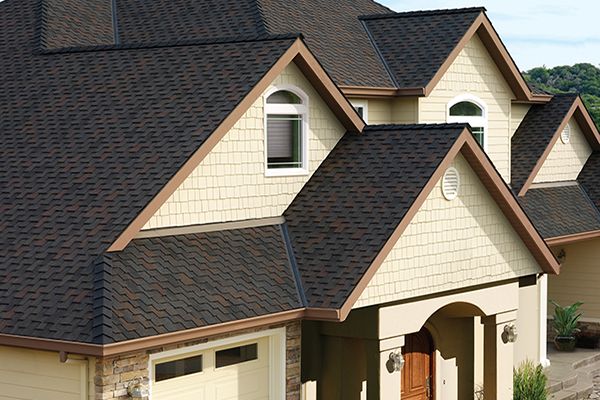 Repair – Asphalt roofs are extremely durable. However, age and inclement weather can lead to roof damage. With roof repair services, our contractors will identify the location and extent of the damage and make the necessary repair to keep your home protected. Your home's roof is an entire system, and any vulnerability can cause the whole roof to fail. Don't ignore the signs you need a repair.
Installation – If you're building a new home, choosing a professional installer with high-quality materials is a sound investment. Our roof installation team can complete any size residential roofing project on time. We trust Owens Corning for a durable and long-lasting roofing system for all our projects.
Maintenance – Yearly roof maintenance is the best way to ensure your home is protected. Our knowledgeable professionals inspect your roof for signs of damage or decay each year. Maintenance allows us to anticipate potential repairs and replacements so you can properly plan. Ongoing maintenance will also improve the lifespan of your roof.
Replacement – Typical asphalt shingle roofs last about 20 years before they need to be replaced. When the time comes for a replacement roof, our team is the contractor you can trust. We replace roofs using Owens Corning asphalt shingles for protection that lasts up to three decades with proper care.
Asphalt Shingles FAQs
As the local leader in asphalt shingle roofs, you can find all the answers to common questions about your home's new roof. We've helped protect hundreds of homes in the communities we serve throughout the years. Learn more about our asphalt shingle roof services.
What Is the Average Lifespan of an Asphalt Roof? – Most asphalt shingle roofs have a lifespan of about 20 years. Moss growth and inadequate maintenance can significantly reduce that number.
Can You Put a New Layer of Shingles On an Old Roof? – In some cases, it is okay to layer new asphalt shingles over your old asphalt roof. However, it's inadvisable and often illegal to have more than two layers of asphalt shingles because it can overburden the roof.
What is the Average Cost of a New Shingle Roof? – The average cost of installing a new shingle roof is $2 to $3 per square foot, depending on the types of material and complexity of the installation.
Choose Your Local Asphalt Roofing Leader
Homeowners throughout Greenville, Asheville, and Columbia, SC choose us for asphalt roofing because we offer reliable and timely services using high-quality products. We have the tools, materials, and training to handle any size or scope of roof repair, replacement, installation, or maintenance service. Asphalt roofs are one of the most durable and affordable roofing options available, which give homeowners an exceptional return on investment while keeping their homes protected. Not sure if you need a roofing service? Contact our team today to schedule your roof consultation.
Never Clean Your Gutters Again®