Skip to Content
Residential Roof Replacement Services in Greenville, SC
Experienced Asphalt Shingles Roofing Installations Contractors
A quality roof looks great and protects your home from the elements, but roofs are only designed to last so long. While roof repair is sometimes an option, replacing your roof is often the best way to go. The experienced roofing contractors at Carolina Gutter Helmet and Roofing Greenville SC specialize in residential roof replacement services in Asheville, NC and Greenville and Columbia, SC. Whether you have leaks or broken shingles, our team of skilled roofers can replace your roof by installing a new one that will stand up to the local weather conditions. We only use the best brands in the industry, and our installation team is second to none. Our team specializes in the installation of asphalt shingles, but we also offer a variety of roofing choices based on your needs, preferences, and budget. Learn more about our roof replacement services and contact us today to get your free estimate.
When Do You Need Roof Replacement?
Your roof can take a beating over time. The rain, snow, wind, and sun all take their toll on your home's roof in North or South Carolina. When you notice a problem with your roof, be sure to contact our experienced roofing contractors. We'll perform a thorough inspection and determine whether repair or replacement is your best option. The following are signs that you may need a roof replacement:
Missing or Damaged Shingles – Damaged areas of your roof or missing shingles are signs that you need a roof replacement. Inclement weather can damage your roof's slates and shingles, leaving you with missing parts of your roof. Our roofing experts install the best roofing types and brands in the industry.
Water Leaks – A water leak is one of the most telltale signs that your roof needs to be replaced. If you notice brown stains on your ceiling, your roof is no longer protecting your home from the elements. One small leak can be fixed, but multiple leaks indicate it's time to have a full roof replacement.
Roof's Age – Different types of roofs last longer than others. Tile roofing can last for up to 50 years, but more affordable asphalt shingle roofing typically lasts about 20 years. The weather in the area means you may need a new roof sooner. Other signs to look for that indicate a worn-out roof include curling, blistering, or cracked shingles, flashing and caulking damage, and roof buckling or a warped appearance.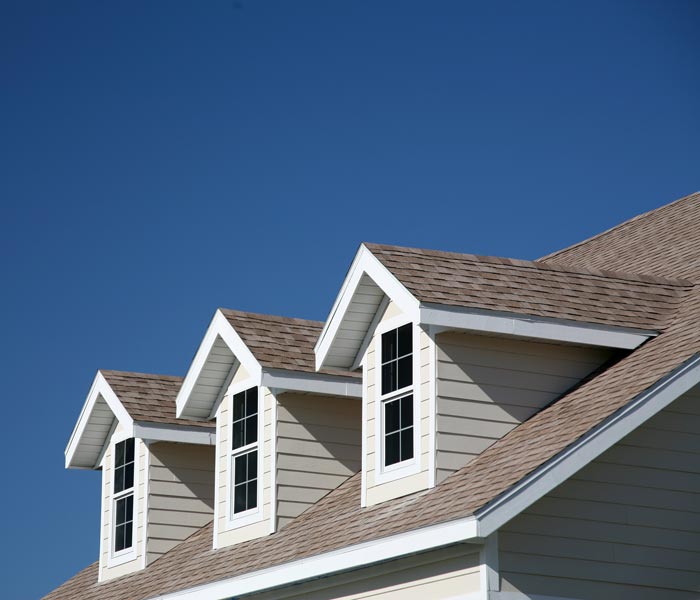 Quality Roofing Replacement Services
You can trust our licensed, experienced, and insured roofers for all your residential roofing needs. We prioritize customer service and communication and treat our customers with professionalism and respect. Our process starts with a free consultation. We'll discuss all your options with you, and then our experienced roofing contractors will get to work. We can install a variety of roofing systems, including wood shingles, fiberglass shingles, slate, metal, and more. Asphalt shingles are the most popular roofing material in the country. They offer excellent protection and are easy to install. Best of all, they're the most affordable roofing choice. Carolina Gutter Helmet and Roofing can install a wide variety of asphalt shingle styles and colors for your roofing system. They're available in a range of grades, with better grades offering longer life expectancies up to 30+ years. Learn more about the benefits of asphalt shingles:
Low-Maintenance – Many other roofing materials require maintenance, but asphalt shingles are easy to keep clean and can be repaired or replaced easily if they become damaged.
Easy to Install – The size and flexibility of asphalt shingles make them among the easiest roofing materials to install.
Aesthetically Pleasing – Asphalt shingles are available in a wide variety of colors and textures. We'd be happy to help you create a design to match the décor and architecture of your home. Asphalt shingles can mimic the look of tile, slate, or wood.
Affordable – Asphalt shingles are among your lowest costing roofing options. They give you an excellent return on your investment.
Lightweight – Asphalt shingles are lightweight and do not place undue stress on your home's roofing infrastructure.
Choose the Roofing Installation Experts
When you need a new roof, you need a contractor you can trust. Carolina Gutter Helmet and Roofing has been serving homeowners in Greenville, SC, Asheville, NC, and Columbia, SC since 1998. We use the highest-quality brands and manufacturers in the roofing industry and provide free roofing estimates. Contact us today to get started.
Never Clean Your Gutters Again®