Skip to Content
Awnings to Suit Greenville, SC's Shade Needs
Carolina Gutter Helmet & Roofing is Greenville, SC's one-stop-solution to residential home improvement from the rooftop to the back deck. We make it our business to help clients feel secure and comfortable in their homes and outside spaces with high-quality options for shade, roofing, and rainfall protection. With Gutter Helmet gutter guards, the water can flow through your unobstructed gutters and away from your home, without the worry of leaves, bird nests, and clutter creating barriers and backing them up. We're also a proud Owens Corning® Preferred Contractor for roofing services, such as installation and repair using quality materials for wood shingle, fiberglass shingle, metal, or slate roofing systems. Another helpful service we offer is selling and installing awnings to give homeowners shade and protection from the elements. Whether it's a retractable awning over the back porch, retractable screens to hang on your deck, or our other services for outdoor living spaces, you can enjoy a cool space without the harsh sunlight beating down on you. The stifling South Carolina summers become more pleasant with an awning over your weekend barbecue party or book club meeting.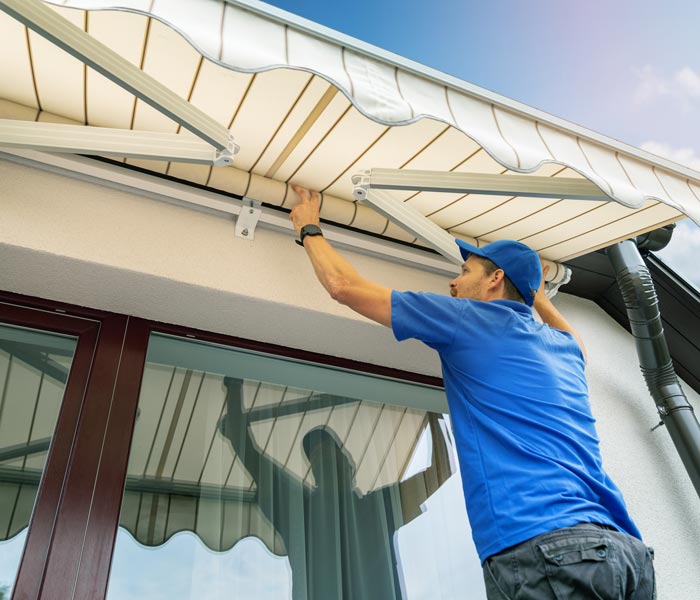 Learn More About Residential Awnings
Installing an awning at your home comes with many benefits to your leisure time and your utility bills. An awning provides relief from the sun's bright rays, which gives your family and friends a cooler space to enjoy the outdoors without sunburn or freckling. The convenience of awnings goes beyond your afternoon iced teas on the deck; you can save money every month on your utility bills. Awnings protect you from over 90% of the sun's ultraviolet (UV) rays, and their blocking of the sun can keep the inside temperature of your home up to 15 degrees cooler. The shade also protects your furnishings from fading and wear due to sunlight exposure, and you can enjoy all these benefits year-round.
Improve Your Home with a Retractable Awning
Carolina Gutter Helmet & Roofing can help you add style and comfort to your porch, patio, or deck with a retractable awning from Eclipse Shading Systems®. These high-quality options for your home come in a variety of colors, sizes, and styles to suit your tastes and complement your home's aesthetic. Hosting outdoor parties any time of year gets a lot cooler and less searing with an awning that you can expand to enjoy your outdoor space and retract when it's time to go in. Eclipse Shading Systems® is a top provider of advanced solar protection solutions. We proudly offer their line of retractable awnings for sales and installation to homeowners who enjoy using their patios. Our team will help you select the awning that's right for your needs and budget, and then we'll expertly install it so that it's ready for use right away.
Keep Out the Sun with Retractable Screens
Add a stylish touch to your outdoor spaces that keeps UV rays from ruining your furnishings with retractable screens. Carolina Gutter Helmet & Roofing offers a selection of these shade solutions from Eclipse Shading Systems®. You can customize the appearance to match your décor and add a flair of glam by choosing from various sizes and colors, such as white, brown, camel, and desert sand. These shades come with manual or motorized operation, making your chic shading easy to use and enjoy. They also have a fabric or framework warranty available to protect your investment, so your state-of-the-art solar protection is a worry-free purchase. We keep your outdoor spaces cozy and beautiful with the installation done right the first time to ensure they're ready to use as soon we leave.
Shade Options for Your Outdoor Living Spaces
If you have a large outdoor space that needs shade from the sunlight, consider solving your patio problem with a Total Eclipse awning. This super-size outdoor shade uses interior mounted rollers to expand over a sizable space, and it comes in a variety of solution-dyed acrylic fabrics to suit your style. You get a beautiful shade solution for the outdoors that's virtually maintenance-free, with the hidden arm belt and sealed ball bearings ensuring smooth operation and a longer service life. The Eclipse Premier features a motorized push-button operation if you want an automated version for easy expanding and retracting. You can improve comfort in a space of up to 16.5 feet long and 40 feet wide with easy operation and lasting quality and durability.
Contact Carolina Gutter Helmet & Roofing
Our team of outdoor comfort specialists looks forward to hearing from you about your awning needs. We've built our company's success in offering high-quality products, materials, and workmanship, delivered with outstanding customer service. Your home should be a place of relaxation and enjoyment, and we help make it a reality with retractable awnings, screens, and other outdoor space solutions. Give us a call today to get answers to your questions and schedule your own custom awning installation from Carolina Gutter Helmet & Roofing.
Never Clean Your Gutters Again®