Skip to Content
Outdoor Living Spaces in Greenville, SC
Outdoor Patio Shades Services at Carolina Gutter Helmet
Discover the perfect harmony of nature and comfort with Carolina Gutter Helmet's exceptional outdoor living space services. Serving Greenville, SC, Asheville, NC, and Columbia, SC, we specialize in creating breathtaking outdoor sanctuaries that seamlessly blend with your surroundings. Schedule a free consultation today and let us bring your outdoor living aspirations to life.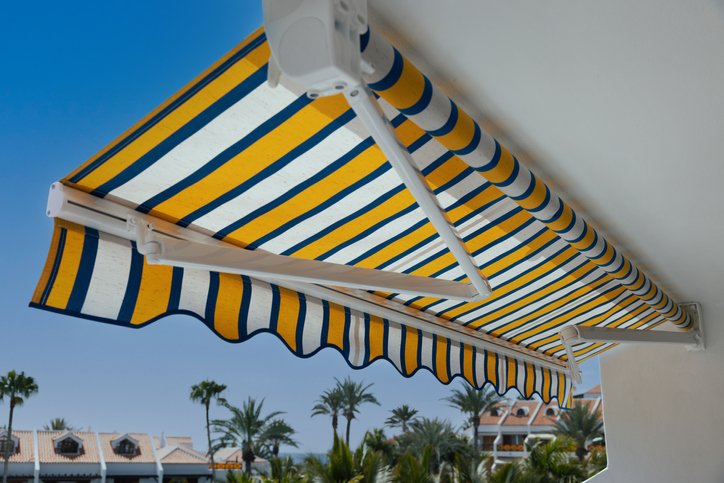 Sunsetter Series Awnings
Sunsetter Series Awnings through Carolina Gutter Helmet offers the perfect blend of style and functionality for outdoor living spaces. These premium awnings are designed to provide shade and protection from the elements, allowing you to enjoy your patio or deck to the fullest. You can customize your awning with various sizes and fabric options to suit your specific needs and preferences. Sunsetter Series Awnings are easy to operate, ensuring a seamless outdoor experience. Enhance your outdoor living with these top-quality awnings that combine elegance with practicality.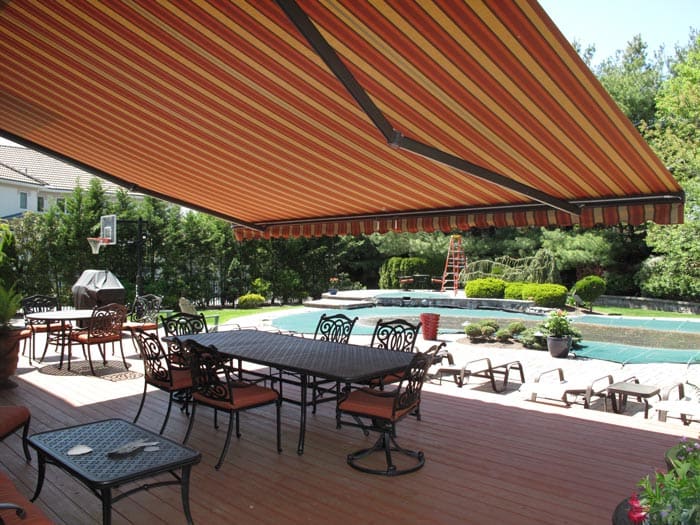 Motorized Awnings and Motorized Screens
Motorized awnings and motorized screens bring convenience and sophistication to your outdoor spaces. With the touch of a button, you can effortlessly extend or retract your awning to control sunlight and provide shade. These motorized solutions also offer protection from insects and enhance privacy while maintaining your view. Enjoy the flexibility and ease of use that motorization brings, making your outdoor area more comfortable and enjoyable. Upgrade your patio or deck with motorized awnings and motorized screens for an elevated outdoor experience.
Eclipse Retractable Awnings
Eclipse retractable awnings offer innovative solutions to enhance your outdoor living experience with two main product lines: Total Eclipse and Eclipse Premier. The Total Eclipse series features a robust design and strong components, making it ideal for larger outdoor areas. Its exceptional coverage and durability ensure long-lasting performance, even in harsh weather conditions. On the other hand, the Eclipse Premier series boasts advanced technology and refined aesthetics. With a sleek design and quiet operation, it seamlessly blends into your home's architecture while providing optimal shade and comfort. Both product lines offer a wide selection of fabric and color options, allowing you to personalize your awning to match your style. Elevate your outdoor space and enjoy the best of both worlds with Eclipse retractable awnings' reliable performance and stylish appeal.
Patio Covers
Patio covers offer a versatile and practical solution for enhancing your outdoor spaces. These structures provide shade and protection from the elements, allowing you to enjoy your patio throughout the year. With various designs and materials available, patio covers can be customized to match your home's architecture and your personal style. Create a comfortable and inviting outdoor retreat by adding a patio cover to your home, providing an ideal space for relaxation, entertainment, and gatherings with family and friends.
Benefits of Outdoor Shades and Patio Covers
Outdoor shades and patio cover offer various benefits that significantly enhance your outdoor living experience. The benefits include:
Sun Protection – Outdoor shades and patio covers provide essential protection from harmful UV rays, preventing sunburn and reducing the risk of skin damage.
Heat Reduction – By blocking direct sunlight, these covers help keep your outdoor space cooler, creating a more comfortable environment for relaxation and entertainment.
Extended Living Space – Patio covers effectively extend your living area, allowing you to enjoy your outdoor space regardless of the weather conditions.
Privacy – Outdoor shades can offer added privacy, creating a secluded and intimate atmosphere for you and your guests.
Protection from the Elements – Patio covers shield your furniture, plants, and outdoor belongings from rain, wind, and debris, ensuring they remain in good condition over time.
Aesthetic Appeal – Outdoor shades and patio covers come in various designs and materials, allowing you to complement your home's architecture and elevate its overall visual appeal.
Investing in outdoor shades and patio covers can significantly improve your outdoor space's comfort, aesthetics, and functionality, making it a welcoming retreat for you, your family, and your guests.
Why Choose Carolina Gutter Helmet & Roofing
Choose Carolina Gutter Helmet for the ultimate outdoor living experience. Our expert team specializes in creating luxurious, functional outdoor spaces that complement your lifestyle. From awnings and patio covers to pergolas and outdoor screens, we offer a wide range of top-quality solutions. Experience the benefits of increased shade, privacy, and comfort in your outdoor area for a free consultation and elevate your outdoor living with Carolina Gutter Helmet.
Never Clean Your Gutters Again®