Skip to Content
How Long Do Asphalt Shingle Roofs Last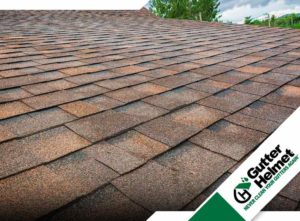 If you're looking to replace your roof, there are a number of materials to consider — slate, clay, concrete, fiberglass, and a variety of woods and metals. In most parts of the United States, the most popular roofing material is asphalt shingles.
Why Asphalt Shingles
Here are a few reasons why asphalt shingle roofing is so popular.
Low Cost – Asphalt shingles are usually the least expensive of the most popular roofing materials.
Variety – Asphalt shingles are available in a variety of styles, sizes, and colors.
Convenience – Asphalt shingles are lightweight and thin and therefore easy to carry and replace. Installation time tends to be shorter for asphalt roofs compared to many other materials.
Availability – Asphalt shingles are very easy to find in any part of the United States, which means there's little chance of your roofing project being delayed while your contractor waits for a shipment to arrive.
Other Advantages – Asphalt shingles are also fireproof, waterproof, and flexible enough to withstand the weight of snow. Their low weight places less strain on your house than heavier materials such as slate, clay, concrete, or wood.
How Long Do Asphalt Shingles Last?
As a counter to all these advantages, asphalt shingles are not generally considered to be the longest-lasting roofing material. But if they're installed correctly, they should last a long time. They're typically expected to last 20 to 25 years, but they are available in different grades, which range from 15 years to over 40 years. Ask your roofing contractor about what grade is best for your roof.
Factors That Affect the Life of Your Asphalt Roof
Besides the age and grade of your shingles, there are many other factors that affect the lifespan of your asphalt roof.
Attic Ventilation – To preserve your roof system, your attic needs to be properly ventilated. An unventilated attic will trap hot air that will burn the roof. Trapped cold air can also do damage. If your attic is not properly ventilated the warranty on your roof or roofing materials may be voided.
A Quality Contractor – It doesn't matter how high-quality your materials are if they're not installed correctly. A good contractor will have a very detailed checklist of things to inspect and duties to perform before, during and after your roof install. Look for a roofer who is certified by a manufacturer of roofing materials. This means they've vetted that contractor and trust them to properly install your roof.
Climate Factors – The climate in your area can play a big role in how long your asphalt shingles will last. If your area is prone to heavy rains, snow, hail and drought, these factors can decrease your roof's longevity. A quality roofer will take account of this and consult you on your options.
Sunshine – Another factor in your roof's longevity is your house's position. If one side of your roof faces south, it will bear the brunt of all that extra sunshine, which will shorten the lifespan of the asphalt shingles on that side. There may be other consequences too, as the northern side will suffer more from cold weather conditions and may develop ice dams, which trap water on your roof and can degrade your roofing material.
Roof Maintenance – The most basic roof maintenance duty is to keep it clear of debris. When gutters fill up with leaves, pine needles, acorns, etc., all this material can 1) start to rot, and 2) trap moisture on your roof. This will shorten the lifespan of your asphalt shingles, so be sure to have your gutters cleaned and your roof cleared off at least once a year. It's easier to keep your gutters from filling with debris if you have gutter guards installed.
When Should You Replace Your Asphalt Roof?
Here are a few factors that determine when it's time to replace an asphalt roof.
Age – If your asphalt shingles are expected to last 25 years, it's better to replace them before you start to see problems such as leaking or falling shingles. Roofing contractors typically recommend replacement at about 80-85% of the expected lifespan. That would be around year 20 or 21.
Failure – Your roof will need to be replaced quickly if you develop leaks or if shingles start to fall off.
Storm or Hail Damage – Some storms or hailstorms are severe enough to cause serious damage to your roof, requiring repair or replacement. Have a roofing contractor inspect your roof if your house was hit by a serious storm. These damages are usually covered by insurance if they're caused by a singular event. Long-term wear and tear are not covered by insurance.
If you need roof repair or replacement, simply turn to Carolina Gutter Helmet & More. When it comes to roofing and gutter replacement services, we are the number one expert to approach and we won't let you down! Give us a call at 864-303-5955 or fill out our contact form to get a free quote. We serve homeowners in Greenville, Columbia, and other nearby areas in SC.
""