Skip to Content
What Sets Gutter Helmet® Apart from the Others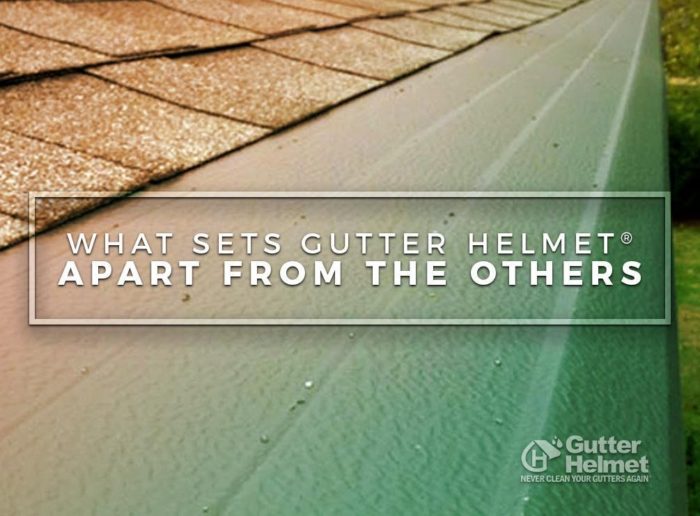 Gutters play an important role in maintaining the structural integrity of your home. They generally drive rainwater away from the foundation, ensuring that the concrete won't absorb an excessive amount of water. Unprotected and unmaintained gutters can lead to cosmetic and structural damage. Carolina Gutter Helmet and More discusses the unique features and benefits of Gutter Helmet® that set it apart from other gutter protection systems.
Innovative Design
Gutter Helmet has a 3/8" textured opening that prevents branches, leaves, and other debris from getting in. This allows only water to flow through. Its patented nose-forward design makes use of water surface tension to ensure that water goes exactly where it needs to go: into your downspouts and away from your home.
It is also one of the high-performing gutter guards available on the market. Instead of using typical nails to keep gutters in place, we use reinforced aluminum alloy brackets, which keep the fascia boards secured from water spills.
Prevents Fading
Old gutters tend to have peeling paint when exposed to extreme weather. When left unattended, your fading gutters can undermine the overall aesthetic of your exterior. At Carolina Gutter Helmet and More, our Gutter Helmet has PermaLife™ Finish that resists chalking while protecting your living space against saltwater and acid rain.
Good Investment
High-quality gutter guards will help you avoid potential repairs for leaky or clogged gutters. In addition, they effectively prevent water build-up, which guarantees safety and convenience. Investing in Gutter Helmet can prolong the life span of your gutter system, allowing you to save money, time, and energy.
You can count on Carolina Gutter Helmet and More for maintenance-free gutters. We offer a triple lifetime warranty with all our Gutter Helmet systems, including materials and product performance coverage. Call us at 864-303-5955 to learn more. We serve different areas in Spartanburg and Chapin, SC, as well as Tryon, NC.