Skip to Content
Top 4 Tips for Effective Gutter Maintenance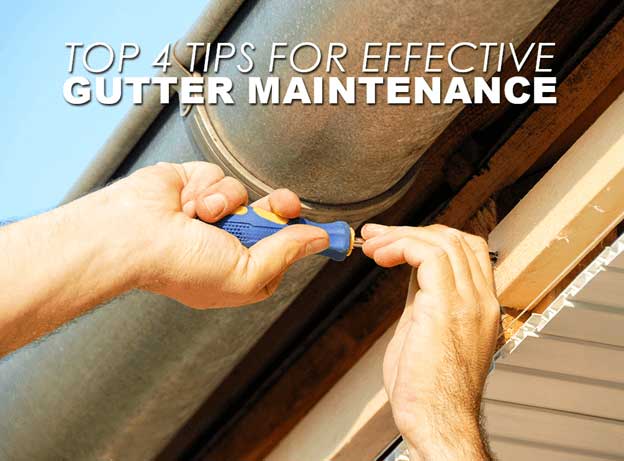 Gutters are essential for controlling the flow of rainwater and protecting your roof, walls, foundation, and landscaping. A clogged gutter wouldn't be as effective and could host lead to mold growth. Let us offer some tips on keeping your gutter maintenance effective.
Install Gutter Guards to Minimize Debris — Having the right gutter covers in Greenville, SC, or the local area, can make a difference by reducing the required maintenance. Gutter Helmet is particularly effective in eliminating leaves, debris, and small animals. Nevertheless, you should check on other areas, such as joints, seals, gutter hangers and slope.
Hire an Expert — Some homeowners prefer to clean the gutters themselves. Still, maintenance involves more than just cleaning. It calls for detailed inspection and looking out for failure points such as old sealant, rust spots, presence of granules, and missing gutter hangers. Many of these would require professional repair. It is advisable to save yourself a lot of effort and simply hire our professionals.
Keep a Schedule — Don't wait until something goes wrong before you call us. Your roofing in Greenville, SC, and the local area, requires periodic maintenance to keep it in good shape; your gutters are no different. Experts recommend gutter maintenance twice a year: once in the fall after the leaves are mostly down, and then another in the spring. If you have Gutter Helmet installed on your gutters, we can advise you on the maintenance schedule.
Make Sure the Gutter Contractor is Licensed and Insured — Should you hire our gutter experts, do know that we carry liability insurance and workers' compensation insurance or "worker's comp". The former covers any property damage, the latter covers any on-site injuries. Keep in mind that both protect your best interests.
If you would like to know more about our gutter services, or our other services, including siding in Greenville, SC, get in touch with Carolina Gutter Helmet and More. Call us today, or fill out our contact form for a free no-obligation quote.