Skip to Content
Siding Series: Reasons to Choose Vinyl as Material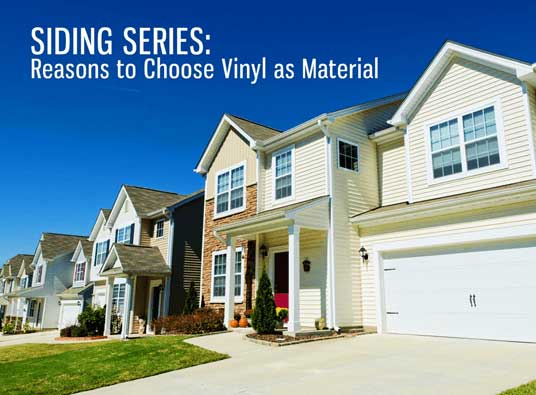 When it's time to replace your siding, you have many choices in terms of the material: wood, fiber cement, stucco, and aluminum. However, one material is the preference of a whopping 33% of the siding market in 2012 alone, according to the U.S. Census Bureau.
Vinyl is your best bet, whether you're building a new home or upgrading an existing one. There's a reason this is the most popular siding in Spartanburg SC and the rest of the country. Let Carolina Gutter Helmet & More discuss the many benefits of this siding material.
Vinyl Siding: An Overview
When vinyl siding was first introduced in the 1960s, it offered limited options. The manufacturing process made it difficult to create a consistently great product. Over the years, however, it has improved on performance significantly.
Vinyl is now among the most durable and efficient siding materials. It is available in almost 350 different colors and can withstand over 110 mph-strong winds, according to the Vinyl Siding Institute. In addition, it comes in various profiles, such as traditional lap, horizontal and vertical panels, scallops, and Dutch lap.
Benefits of Vinyl Siding
Apart from offering roofing, gutters, and windows in Greenville SC, and the surrounding areas, Carolina Gutter Helmet & More also provides quality siding, including vinyl. You can enjoy the following benefits by choosing to install our vinyl siding:
Durability –With vinyl siding, you can protect the rest of your home from harsh weather. Processed through revolutionary technology, our siding can withstand winds, rain, and snow, without cracking or rotting.
Energy efficiency – Vinyl products use less energy, making it a great energy-efficient option. Our vinyl siding, in particular, generates fewer emissions compared with other alternatives.
Lasting beauty – The modern materials incorporated in our siding allow it to maintain its beauty over the years. You can pick from many styles, textures, and colors to create the house of your dreams.
Ease of maintenance – Our siding never requires any painting or sealing. The only maintenance it needs is an occasional wash using a garden hose.
Carolina Gutter Helmet & More carries vinyl and other siding options from only the leading manufacturers. We ensure top-notch installation by using the latest techniques and practices. Give us a call or fill out our request form to get started with your home improvement today.