Skip to Content
3 Less-Talked-About Reasons You Need Gutter Helmet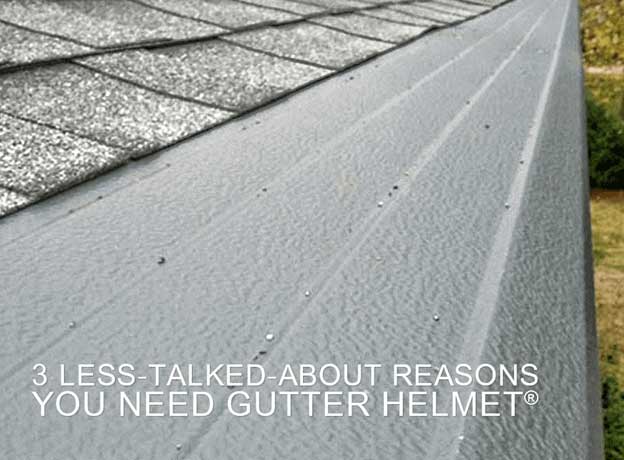 The purpose of installing a gutter protection system is to prevent clogging and virtually eliminate the need for routine cleaning. While this may be the primary role of gutter guards, they do more than just that.
As the authority on gutter protection systems, windows, siding, and roofing in Asheville, NC, and the local area, Carolina Gutter Helmet and More wants to share with you the indirect benefits of having Gutter Helmet. Beyond just keeping your gutters and downspouts free from twigs and leaves, you also have these reasons to install these gutter covers:
Preserving the Integrity of Your Gutters
The absence of clogs in any of your gutters is the best way to keep the entire system in great shape. Be it water or debris, anything that gets trapped due to blockage would keep on accumulating weight. Because of the heavy load, your gutters would eventually develop cracks to cause leaks. They might give in to the pressure and loosen their fastening.
A leaky or sagging gutter system poses a major hazard not just to your home, but also to your family. Despite robust installation and the use of premium materials, gutter covers in Asheville, NC, and the local area are not designed to carry a hefty amount of mass for extended periods.
Protecting Your Home against Water Damage
Once your gutters lose their strength, it could spell some form of water damage. Gaps set the stage for the water to penetrate areas that are supposed to be dry and dampen the space for a long time.
Over time, even mild showers could end up flooding your basement, crawl space, and attic, rendering your insulation ineffective. Your rafters and soffits would rot, your foundation would crack, and your landscape would erode. Even if your siding in Asheville, NC, or the local area, is waterproof, it would ultimately weaken when the rain doesn't go where it needs to.
Keeping Birds and Other Animals Away
Without any covering, animals would be able to turn your gutters into their homes. If birds and insects wouldn't damage your gutter system directly, their nests would clog the passageway and effectively compromise it one way or another.
Installing Gutter Helmet is one of the basic ways to protect your home against nesting animals and bug infestation. As deterring every unwanted guest is necessary to keep your home a safe place for your family, a gutter protection system is a cost-effective and non-disruptive project to invest in.
Harness all the direct and indirect benefits of installing Gutter Helmet. Get in touch with Carolina Gutter Helmet and More now by filling out our contact form and schedule your obligation-free consultation.