Skip to Content
Video Blog: How Gutter Helmet Works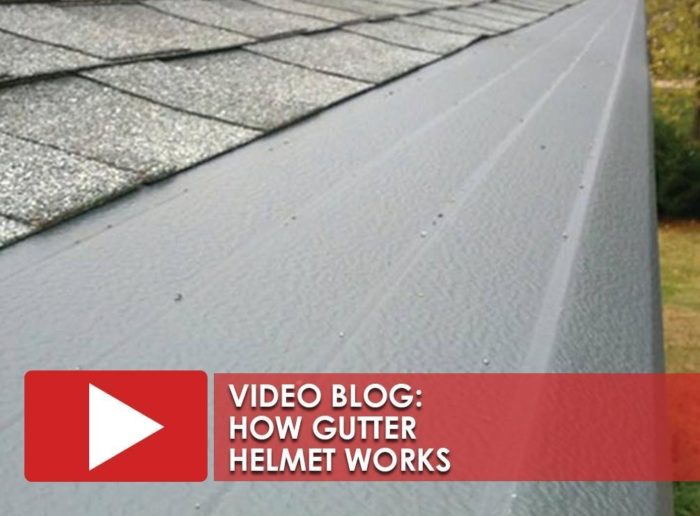 Gutter Helmet is America's number one option for gutter protection. Through precision engineering, it lets an incredible amount of water into your gutters while keeping out debris. While other gutter guards often fall short and constantly clog up, Gutter Guard is virtually maintenance-free.
How exactly does Gutter Helmet work? This video explains the workings of this product.
Precision Engineering
Gutter Helmet employs physics. Through the principle of surface tension, rainwater falling onto your roof will follow the natural course of trajectory of your roof. Because of Gutter Helmet's patented nose forward design, water will curve along and flow into your gutters.
In addition, Gutter Helmet also features a patented coating to help rainwater flow right around the nose and straight into your gutters.
Ease of Installation
Gutter Helmet installs right over existing gutters. With its nifty design, you won't need to make adjustments to any pre-existing structure in your home. Your installer will make the necessary adjustments and fit the versatile Gutter Helmet over your gutters. Depending on the homeowner's preference, it can be positioned over or under existing shingles.
Toughness and Dependability
Gutter Helmet installation results in maintenance-free gutters. You won't need to bother with constant debris-clearing duties as they won't even enter your gutters, to begin with. It's also built to withstand even the harshest of conditions while taking on a deluge of rainwater. To give you an idea of just how much rain Gutter Helmet can take, the heaviest downpour ever documented in America was a little over 11 inches per hour. Test results show that Gutter Helmet can handle twice that amount.
Gutter Helmet is the first and best gutter protection system in the world. Having it installed means you won't have to clean your gutters again. Carolina Gutter Helmet ensures that only water flows through your gutters. We serve Tryon, NC, including nearby areas such as Chapin and Spartanburg, SC. Call us today at 864-303-5955 or 972.427.4418 for reliable gutter protection products.