Skip to Content
3 Key Features of Our Innovative Gutter Helmet® System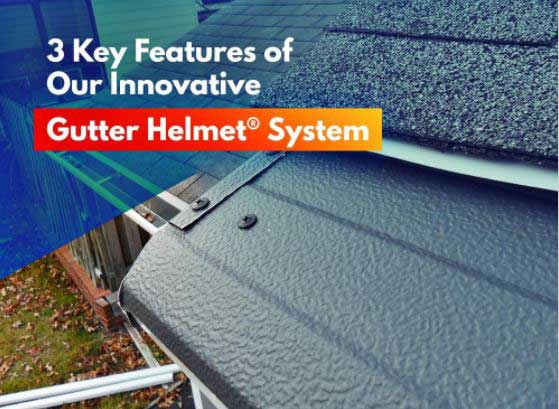 This spring, take the time to give your gutters the attention they deserve. After all, they've worked hard throughout winter's harsh conditions to keep your home safe from moisture damage. To make sure they're at their peak performance all the time, we recommend investing in Gutter Helmet®, the exceptional choice for gutter protection.
Here's a closer look at its features and benefits:
Nose-Forward Design
This unique feature guides water into your gutters while blocking leaves, twigs, dirt and other debris out. Its solid cover offers full coverage, which gives you the assurance that your gutters will stay clean and clog-free for a long time. By reducing the hassles of maintenance, you'll save a lot of time, money and effort down the road.
Textured/Ribbed Surface
For improved surface tension, our gutter guards come with a textured surface. This allows water to stick to the covers as it flows through the system's small opening. In fact, ours is the only product that can brace up to 22 inches of rain per hour, which is twice the highest amount of rainfall ever recorded in the country.
PermaLife™ Finish
When it comes to your home's curb appeal, every detail matters. This is why Gutter Helmet is designed to seamlessly blend with your roofline. We coat it with our exclusive PermaLife finish that withstands chalking, fading, and corrosion. This comes in a wide array of colors to match your home's theme.
We back our advanced gutter protection system with a transferrable Triple Lifetime Warranty, which includes the materials, performance, and installation. It truly is a permanent solution to your gutter woes.
Achieve maintenance-free gutters today by turning to Carolina Gutter Helmet and More. With over 20 years of experience, we only offer top-notch solutions that will keep your home dry and damage-free all year round. Give us a call today at 864-303-5955 or 972.427.4418 for more information about our products and services. You may also fill out our contact form for a free quote. We serve Spartanburg, Chapin and nearby communities in SC.